News
Gail B. White receives award from The Florida Suncoast Watercolor Society
Maryland Federation of Art invited artists residing in the Americas to enter its 18thannual American Landscapes competition. Submissions represented 37 states, and Washington DC, totaled 894 artworks from 275 artists. From the juror's selections 69 works by 64 artists were exhibited at MFA's Circle Gallery. Gail's "Habana Blues" was selected by juror, Joann Moser, Senior Curator Emerita of the Smithsonian American Art Museum, Washington DC. to be a part of this prestigious show (August through September).
Gail's "Pineapple Fields" was on exhibit at the Brookfield Garden Show of the Baltimore Watercolor Society's Member Show in Wheaton, MD August through September.
The Florida Suncoast Watercolor Society awarded Gail 3rdprize at their Art Show at Englewood Art Center for her painting "Mucho Mangoes". The show runs from November 10 through December 8th.
Posted On Tue November 27th 2018
Watercolor composition, "Water with Lemon, Please" on display at Art Center Sarasota
"Water with Lemon, Please", a transparent watercolor composition, is on display at the Instructor's Show at Art Center Sarasota.
A new work in mixed media with gold leaf entitled "Sisterhood" was juried in to the Women Contemporary Show at the Manatee Art Center. The show's reception is Thursday, December 6, and the show runs through January 11.
Posted On Mon December 03rd 2018
"Old Ginko" has been juried in the Suncoast Watercolor Show at Art Center Manatee and will be on display through February 22nd.
Posted On Wed January 23rd 2019
Work of He(art) juried exhibition at Art Center Sarasota includes two of Gail's paintings inspired by a painting trip to Cuba with Dr Pedro Schuck and a small group of artists.
Posted On Wed January 23rd 2019
Best in Show - WCA Spring Show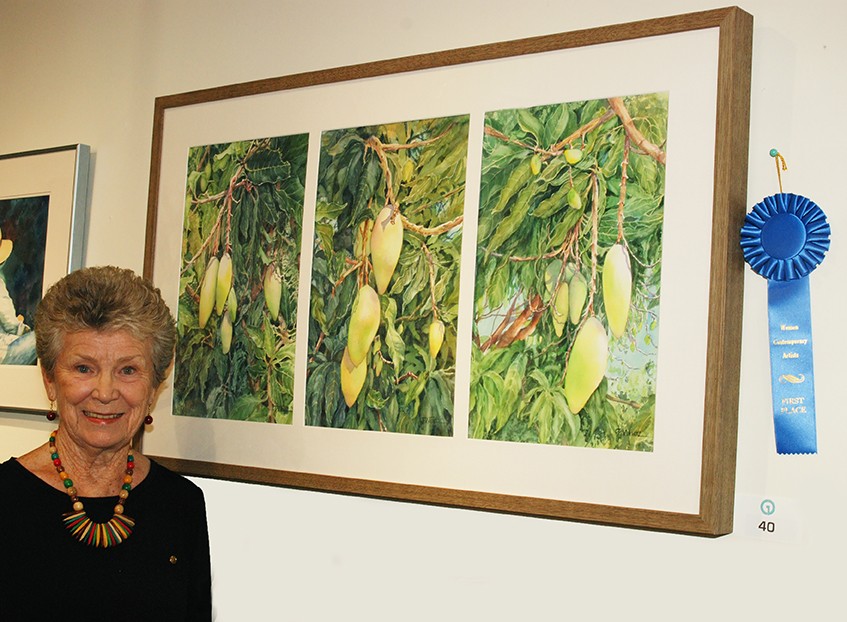 Gail's painting "Mucho Mangoes" was awarded First Place at the WCA Juried Spring Show at Chasen Galleries at 1830 Osprey Ave, Sarasota, 34239. The show runs through May 13.
Posted On Sun April 21st 2019
WCA Art Reception
Awards presentation at WCA Spring Show
Posted On Sun April 21st 2019